The Oscar 2020 was held on the 9th of Febuary 2020 at the Dolby Theater, Los Angeles, California, United States. The night was a remarkable one as everything went on smooth and pleasantly.
The stars were busy getting their outfits signed, showcasing their styles and bringing their pets on the red carpet.
Here's some of the most eye-catching outfits that pupped pop-up at the scene that worth to be talk of.
1. Natalie Portman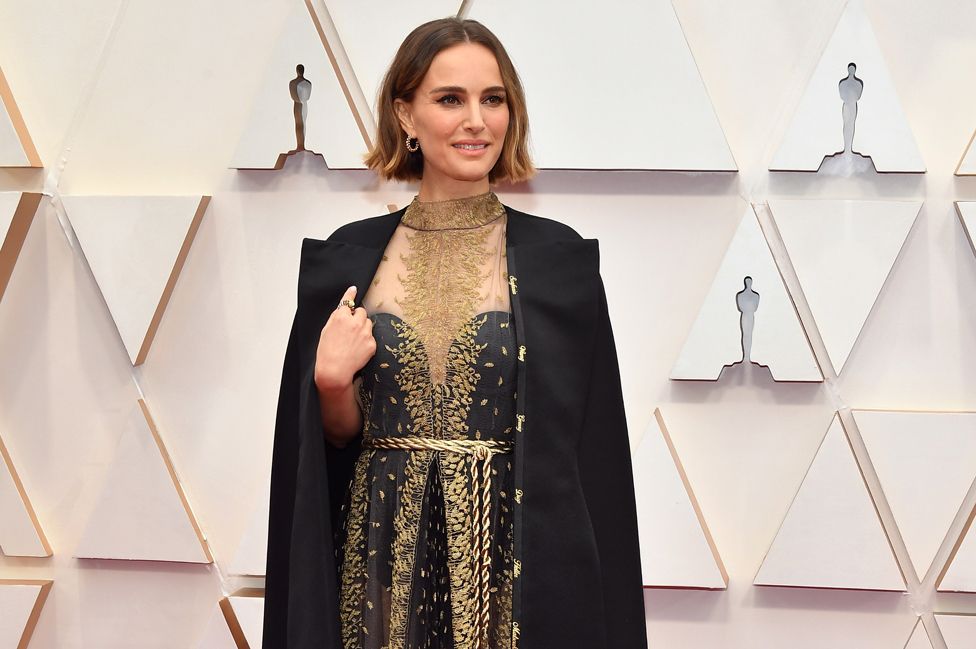 So Natalie Portman  hit the rock with her chic dress. the dress was not that complex but very simple and neat.
The actress wore a black gown embroidered with the surnames of the women who would have been eligible in the category, having directed major feature films in the past year.
The names included: Lorene Scafaria (who directed Hustlers), Lulu Wang (The Farewell), Greta Gerwig (Little Women), Marielle Heller (A Beautiful Day in the Neighborhood) and Melina Matsoukas (Queen & Slim).
2. Billie Eilish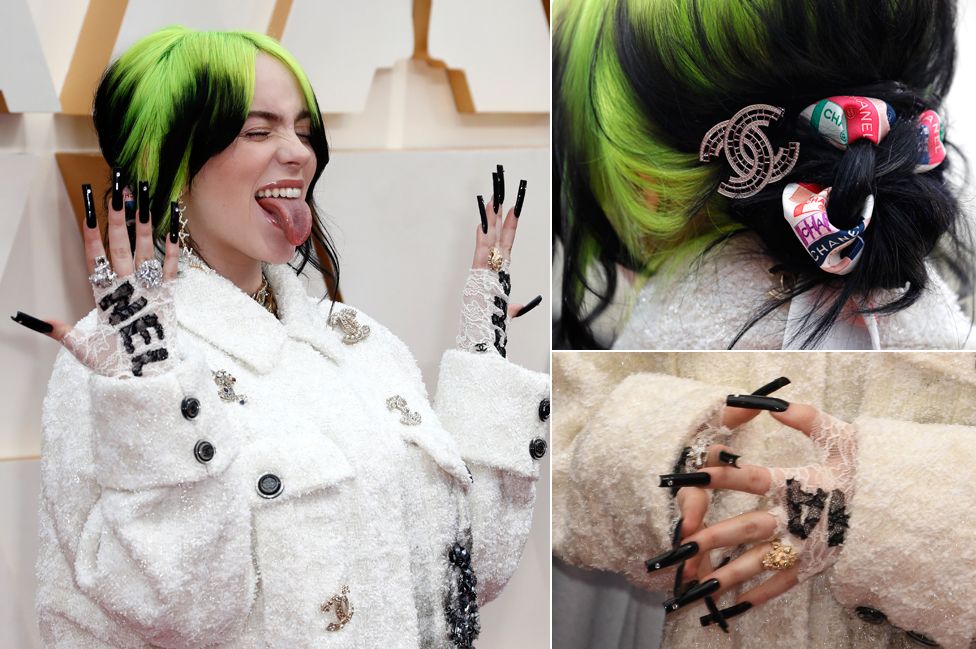 The singer wore a gorgeous white Chanel jacket on the red carpet, complete with several Chanel accessories.
Her hair was fixed with two colours which are black and lemon green. Her extra-long black nails which waswhat really attracted people's attention to her was her long black nails that could pin everything to the wall easily.
3. Julia Butters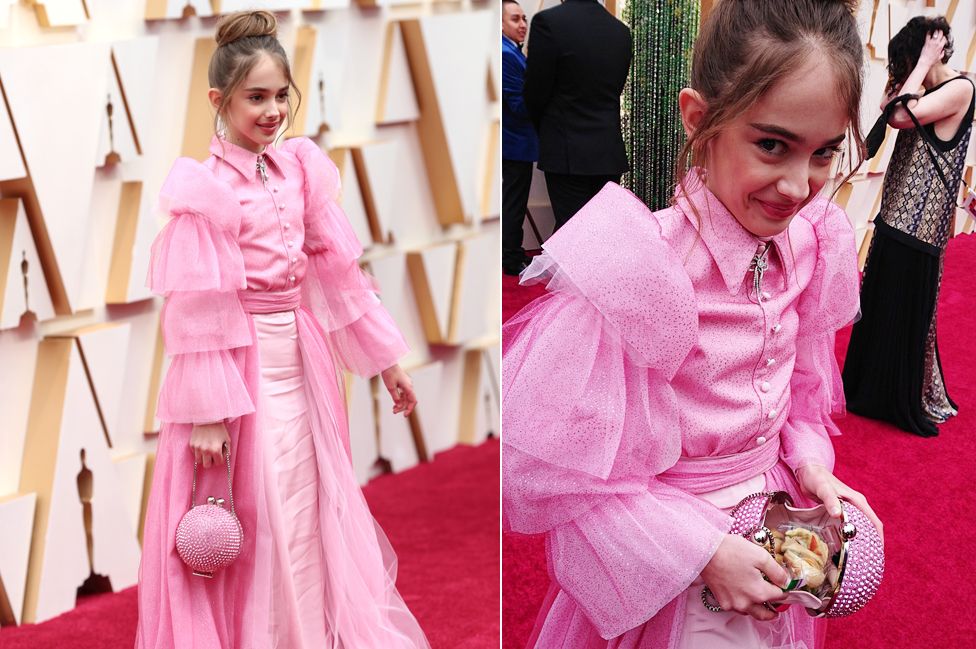 Julia Butters was one of the young stars that was looking extremely elegant that night. She was in a light pink Christian Siriano gown with her cute pink Marzook crystal orb bag in which she kept her Turky sandwich.

4. Some guests brought a (mini) plus-one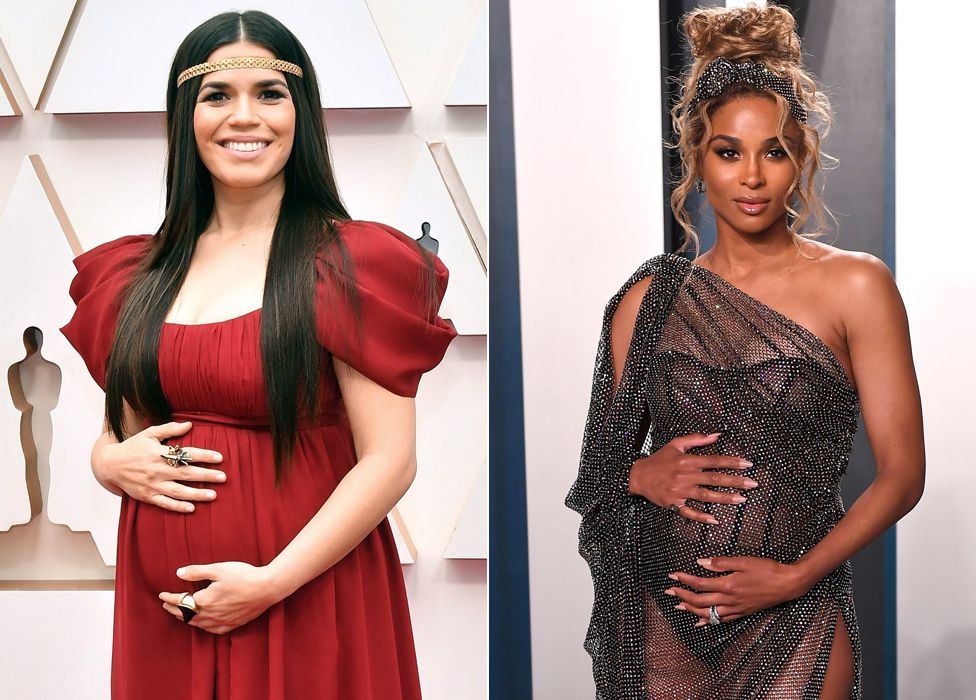 There were otherS who were two in one on the red carpet and these are Fererra and Ciara.
Fererra attended with husband Ryan Piers Williams,  she was in a red pleated chiffon gown with tiered shoulders, designed by Alberta Ferretti.
Ciara (not the storm) turned up to the Vanity Fair after party looking similarly glowing. The R&B singer is expecting her second child with husband Russell Wilson.

5. Spike Lee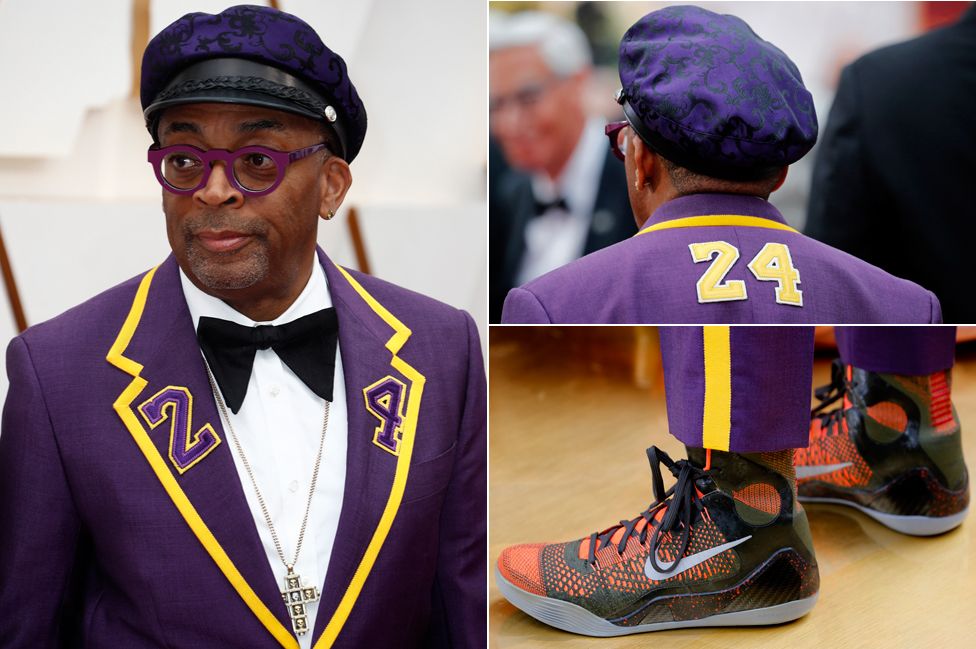 one of the poignant and touching tribute that was seen on the red carpet this year. Spike Lee who is a movie director used his outfit to honour Kobe Bryant and it was very unique and heart melting.
Lee had Bryant's jersey number 24 emblazoned on his Gucci suit, which was purple with gold piping – the colours of the Lakers, Bryant's team .
The number was displayed both on the lapels of his suit jacket and on his upper back, while he opted for orange Nike trainers to complete the look.

6. Sandy powell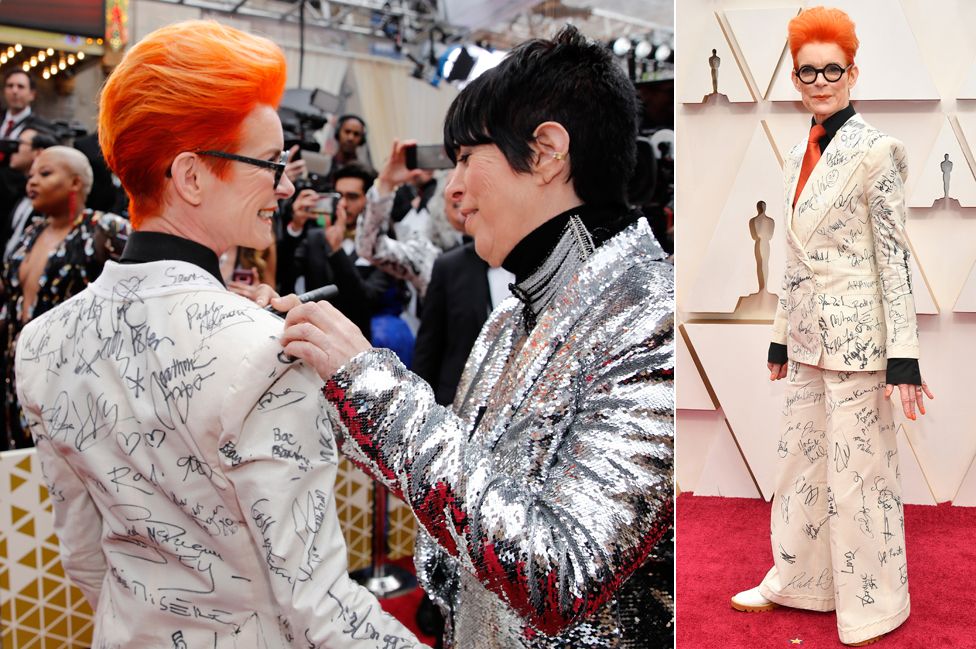 Nowadays, most people don't want autographs when they meet a celebrity, they want selfies.
Costume designer Sandy Powell also brought in something very essential, she was nominated for The Irishman, and her custum was filled with the world's  signatures as possible from the A-listers in attendance. This made her dress looked different stylish.
7. Roman Griffin Davis and Archie Yates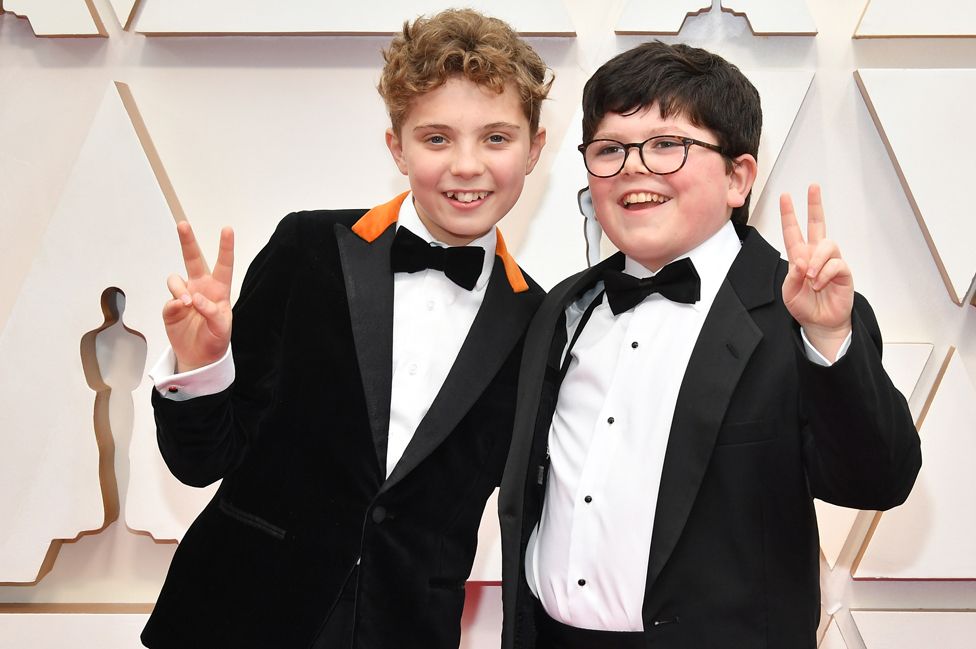 Roman Griffin Davis and Archie Yates also hit the carpet with a smart and simple custom that was with no blemish.
Both were dressed in smart tuxes, with Davis in particular catching everybody's eye with a bright orange collar.
8. Diane Keaton and Emily Ratajkowski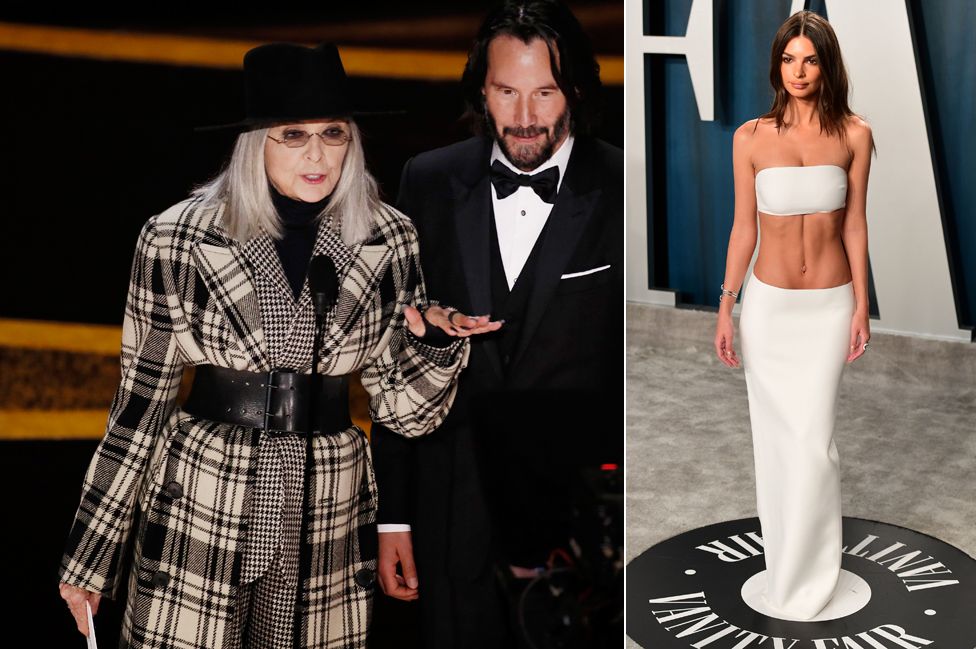 Diane Keaton must have been feeling the chill because she stepped on stage with Keanu Reaves wearing a black-and-white plaid trench coat over a chequered pants suit.
Emily Ratajkowski, on the other hand, was feeling slightly warmer, opting for nothing more than a simple white bralet and skirt as she hit the Vanity Fair party.

9. Sir Elton John rock(et)ed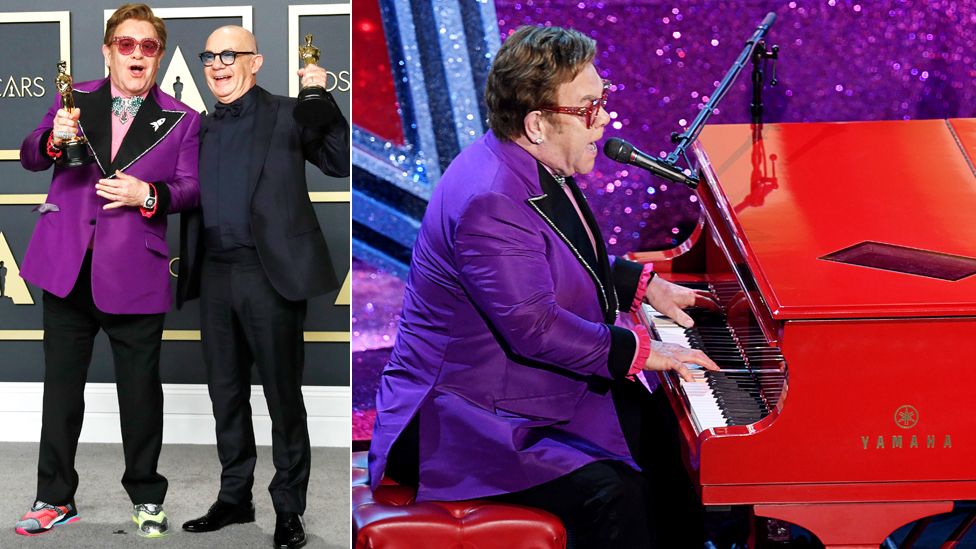 Naturally, Sir Elton John put his own spin on the traditional look by wearing purple. He even wore non-matching trainers for a splash of extra colour.
It certainly made him stick out from the crowd, but he blended in perfectly with the brightly-coloured

10. James Corden and Rebel Wilson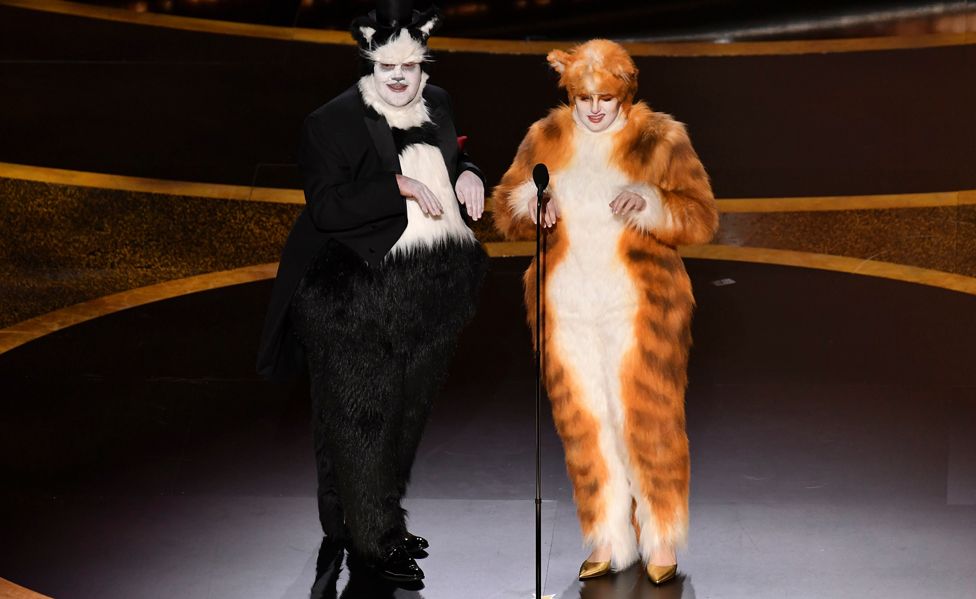 The eye-catching outfits weren't restricted to the red carpet. Several stars changed costume for their appearance in the ceremony.
James Corden and Rebel Wilson, both of whom starred in Cats, introduced the best visual effects category dressed as their characters.
"As cast members of the motion picture Cats, nobody more than us understands the importance of good visual effects," the pair said as they took to the stage, in a jokey nod to the poor reviews the film received.

11.Billy Porter was buoyant and flamboyant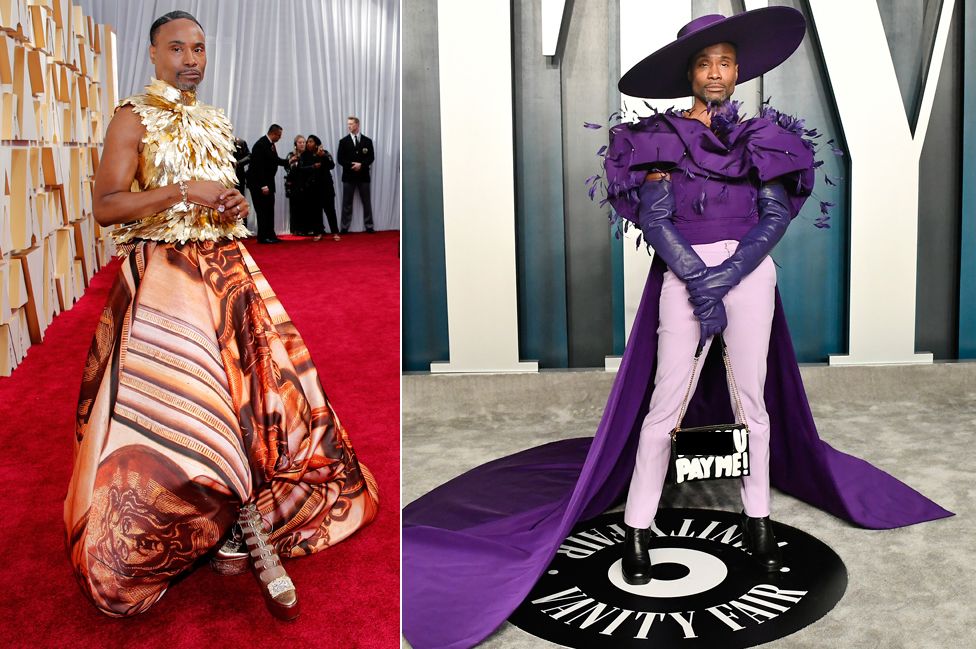 Billy Porterwas on it again by looking fabulous and stunning as he always does.
The Pose star can always be relied upon to put everybody else in the shade, and he certainly didn't disappoint at the Oscars as he took to the red carpet to help host the official pre-show coverage.
Porter wore a custom two-piece by British designer Giles Deacon, which consisted of a 24-carat gold bodice accompanied by a flowing silk maxi-skirt – finished off with some custom Jimmy Choo shoes.
He flipped things up for the after party, changing into an equally vibrant purple ensemble, complete with a cape and handbag with some rude writings that we've covered some part.
12. Charles Annenberg Weingarten and the Dog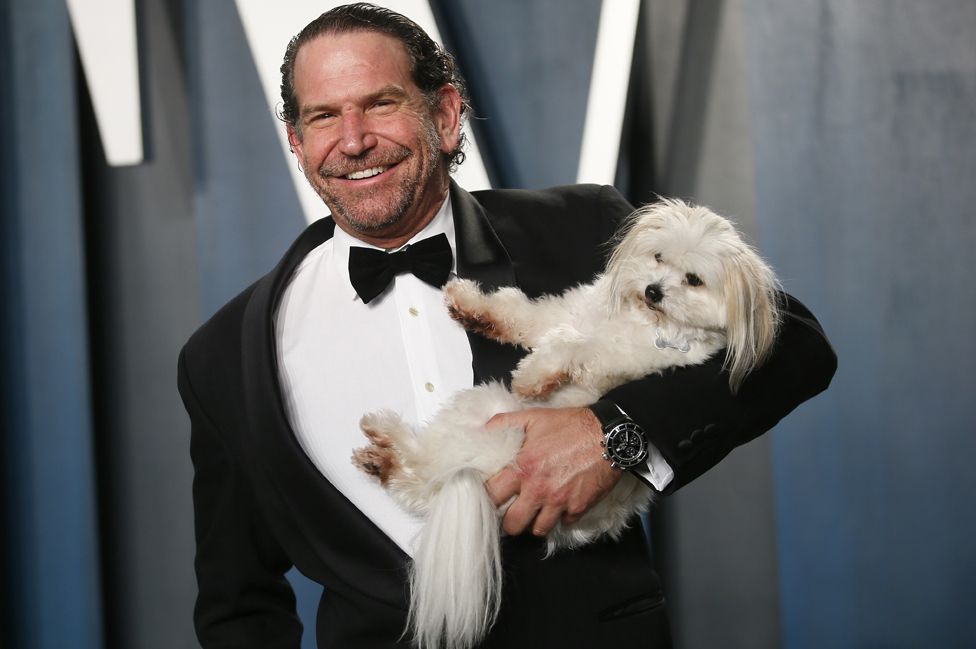 Charles Annenberg Weingarten is the man with the dog and what made this picture  made it in this list was the Dog. The dog was his closes companion and the biggest guess of the show.
Charles was in a simple black suite with a white long inner shirt.